Social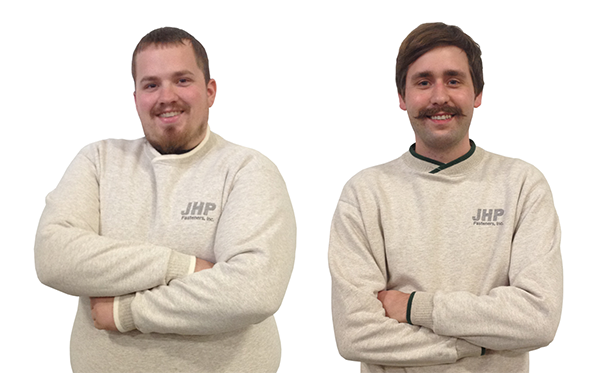 Warehouse Gurus
October 22, 2014
We've welcomed some new faces to our JHP Fasteners family and we want to take the time to properly introduce them.
Adam Kent (left) is one of our expediting rock stars as well as our go to guy for international shipments. With ecommerce picking up and International demand higher than ever, Adam has been instrumental in creating a snag free flow of fasteners to far flung locations like Australia, India, England and even China.
Adams knack for witty humor manages to bring levity to even the most difficult situations. If we weren't laughing enough before, we certainly are now!
Tim Strother (right) is a musician at heart and an organizational/customer service professional by trade. Besides juggling all of the normal warehouse jobs, Tim has the distinct duty of being our Vendor Managed Inventory point man. Several days a week you will find Tim in our customer's facilities, stocking product and ensuring that their hardware needs are met promptly and consistently.
Tim's zeal for eclectic music and his unique brand of social commentary keeps us on the cutting edge of societal evolution, here at JHP Fasteners.
If you ever have the opportunity to meet these two members of the JHP Fasteners family I would encourage you to do so. They are fantastic people and great assets to have on the team! Follow this link to find out more about our fastener family, and how we came to be.