Packaging & Kitting Solutions Services

Custom packaging and kitting services provide a quick and cost-effective way to get your customers the packaged fasteners and components they need to complete a specific job. Packaging and kitting solutions deliver premium fasteners and components in a sealed container and can even include detailed instructions for their task. This value-added service provides an easy and effective way to provide your customers with only the fasteners and hardware products they need, saving significant time, money, and hassle.

Monroe-JHP Fasteners provides standard and custom fastening components to just about every industry in North America. Together with your contract manufacturing capabilities, we can package your components, supply purchased parts, assemble your product, coat, or paint your components and then package and ship to your specifications.

Monroe-JHP Fasteners is your trusted one-stop supplier for packaging and kitting solutions services. Give us a call at 800-783-0910 or contact us at sales.jhp@askmonroe.com for a detailed quote.

Our Autobag® AB 180 Kitting Machine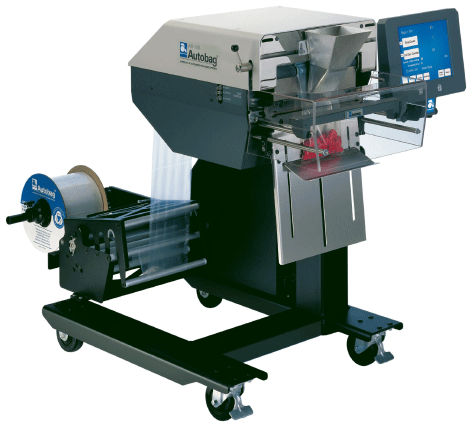 How Do Packaging & Kitting Services Work?
With our in-house kitting and assembly capabilities, we pick and pack components according to your specific instruction and if needed, can deliver the kits to strategically located storage bins on your production line. This eliminates unnecessary purchasing steps and the need to assemble, saving significant time and resources.
Packaging & Kitting Solution Advantages
Hardware and fastener packaging and kitting services are designed to save your customers time and money while providing your company relief from having to fulfill complex job orders requiring multiple SKUs. Some of the additional benefits that our fastener and hardware kitting services offer includes:
Faster assembly
Fewer shipping mistakes
Better packaging
Increased storage
Enhanced packaging and distribution
Packaging & Kitting Service Options
Monroe-JHP Fasteners provides packaging and kitting solutions based on your customer's exclusive project needs. We provide direct packaging and kitting solutions for the following fastener and hardware products:
Autobag® AB 180 Kitting Machine
The Autobag® brand automated kitting machine increases the speed of the packing process, enhancing overall production efficiency. By utilizing the Autobag® AB 180 Kitting Machine, we can quickly and efficiently package and ship various fasteners and hardware products with quick turnaround and lead times.
Why Choose Monroe-JHP Fasteners for Packaging & Kitting Solutions Services?
With thousands of inch and metric fasteners and hardware products in stock, Monroe-JHP Fasteners provides the products you need, fast, pre-packaged, and ready to service your customer's project requirements.
Since we work closely with operators and engineers in the precision sheet metal shops, our employees have relevant knowledge for all the products we sell. We not only receive your order, but we also understand it, and if it's a rush, we do everything we can to get it to you as quickly and efficiently as possible. Monroe-JHP Fasteners provide the following advantages:
Quality products
World-class service
Exceptional speed and accuracy
Unprecedented expertise
Contact Monroe-JHP Fasteners for Your Custom Fastener Kitting & Packaging Service Needs
Contact Monroe JHP Fasteners
today to answer any additional packaging and kitting questions.
Request a Quote
for inquiries regarding packaging your components, supplying purchased components, assembling your product, coating or painting your components and then packaging and shipping to your specification.