New Product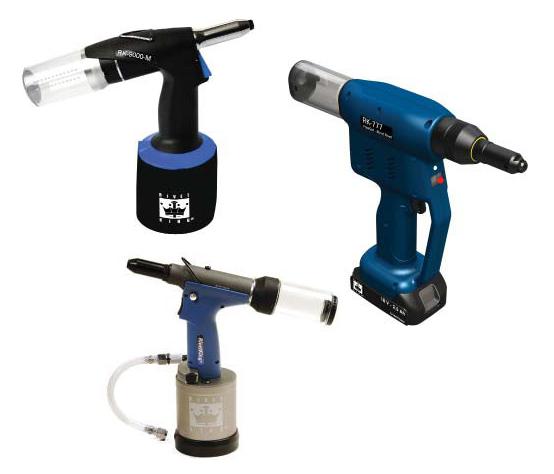 Pneumatic/Hydraulic Rivet tools - The Best Of The Best
February 05, 2016
The New Generation of Pneumatic/Hydraulic Rivet Tools
JHP Fasteners is proud to represent Industrial Rivet & Fastener Co. as one of their master distributors. As a master distributor, JHP Fasteners has access to exclusive tooling such as the KingSet & RK-753 automatic riveters as well as the highly intelligent RK-777 battery operated tool. With a wide array of professional grade pneumatic/hydraulic rivet tools, JHP Fasteners is prepared to deal with any application you may encounter. In general, these types of tools allow for much faster rivet insertion and greatly reduce the operator fatigue that is associated with manual tools. They do require a source of reliable, clean, compressed air (except RK-777) for operation and maintenance training is available for all tools.
---
Good for all levels of riveting and intended to be cared for by in house maintenance.The RK-8000 series was designed on a modular platform and can be supported in-house with the provided tool kit or with standard tools available in any maintenance department. The three models available have many interchangeable parts and access to these parts is only 24-48 hours away in most cases. The long stroke of the RK-8000 series, helps insure that the rivet is set with one pull of the trigger and the vacuum mandrel collection system is easily adjusted to help reduce the load on shop air compressors. These tools are provided in a blow molded case with organizational foam inserts which is especially helpful for companies developing 5-S strategies. All tools are serialized for maintenance tracking. Every RK-8000 tool comes with a one year factory warranty*.
RK-8000S (3/32", 1/8" & 5/32") Power: 1,850 lbsF
Stroke: .787"
Weight: 2.42 lbs

RK-8000M (1/8", 5/32" & 3/16")
Power: 2,450 lbsF
Stroke: .787"
Weight: 3.3 lbs

RK-8000LS (5/32", 3/16 & 1/4")
Power: 3,400 lbsF
Stroke: 1.05"
Weight: 3.74 lbs
---
Robust, high performance tools designed for high levels of production with minimum in house maintenance. The fusion of power and speed, with an improved ergonomic and rugged design resulted in a series of tools for the most demanding production environments. The RK-9000 series offers a 360° degree adjustable air inlet for both left and right handed users. The vacuum forces are greatly improved due to its efficient use of air providing extreme extraction of the mandrel after riveting. The easy touch trigger requires less than .25 lbs force to activate. The rugged glass filled nylon casing and high durometer rubber boot provides the tool with years of protection. Only basic care and cleaning is required of the operator. Maintenance is supported by service centers nationwide and all tools are serialized for maintenance tracking. Every RK-9000 tool comes with a two year factory warranty*.
RK-9000S (3/32", 1/8" & 5/32")
Power: 1,640 lbsF
Stroke: .670"
Weight: 2.75 lbs

RK-9000M (1/8", 5/32" & 3/16")
Power: 2,800 lbsF
Stroke: .825"
Weight: 3.63 lbs

RK-9000LS (3/16" & ¼")
Power: 3,600 lbsF
Stroke: 1.0"
Weight: 3.96 lbs
---
The FreeSet riveting tool (RK-777) embodies groundbreaking integration by offering the freedom of a battery operated tool combined with smart technologies enabling real time process monitoring and barcode scanning capabilities. The concept is simple: Add intelligence to a high performance tool, with a renewable energy source and you arrive with the technology of FreeSet. Freeset is a tool offered in a variety of configurations which can meet and exceed the needs of its users. Whether operating without access to a compressor, de-cluttering work cells, or incorporating error-proofing strategies in the production line, FreeSet can be configured to solve nearly any assembly problem. The tool can be configured in a LITE, STANDARD, or PRO version depending on the applications needs.
The PRO version error proofing features are robust, providing both visual and audible OK/NO-OK indicators via the multi color display. The force sensor can detect variations in setting force as well as the actual grip. The results of which can either be stored in the tools onboard memory card, or exported by USB to a spreadsheet to review the force curves. A barcode reader can also be added for quick and easy program recall and tool setup for different rivets or applications.
For advanced users, a WIFI connection can be opened and the tool can communicate with your PLC for additional controls.
The RK-777 is ECO Friendly and considered a "Green Technology" as the battery life is managed by the tools microprocessor and included smart charger. This can help extend the battery life for years.
All Versions:
• 18V up to (7.5ah) Battery
• High Power Brushless Motor
• Work light
• Maintenance Management System
• Maintenance Interval Alarm / Buzzer
• Installs all rivets up to ¼"

RK-777-1 (Lite Version)
• Without Multi color Display and without Optional Features

RK-777-2 (Standard Version)
• Multi Color Display, USB Connectivity, Software, Motor Control
• Optional Features: Barcode Reader, WiFi

RK-777-3 (Pro Version)
• Force Sensor, Rivet Qualifier, Operator Feedback, Memory Card, Counter
• Storage of up to 150,000 rivet installations
• Multi Color Display USB Connectivity, Software, Motor Control
• Optional Features: Barcode Reader, WiFi
We invite you to take advantage of our broad range of industry experience and expertise. Based on your input, we will be able to provide you with expert guidance on the choice of the most appropriate rivet tool to meet your demanding requirements. Excellent customer service, a broad product offering, and competitive pricing are just a few of the tangible benefits of doing business with JHP Fasteners. We'll work hard to win your business!

Looking for a slightly used or demo rivet tool? Click here to see our gently used rivet tool inventory.
Looking for the latest in rivet nut tooling? Click here to see what JHP Fasteners can bring to the table.
* Abuse or tampering is not covered